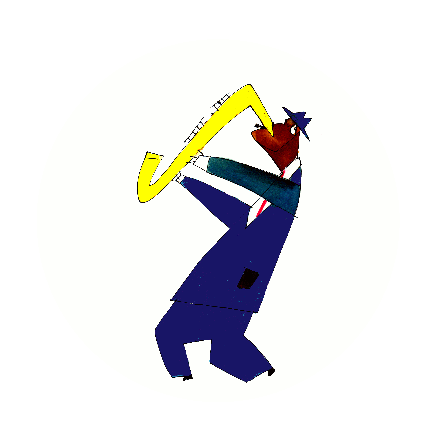 Archie Shepp, « one of the greatest interprets of the babelian memory of jazz »
Saxophone player, composer, pianist, singer, politically committed poet, playwright, Archie Shepp is a legend.
Archie Shepp was born in 1937 in Fort Lauderdale in Florida. He grew up in Philadelphia, studied piano and saxophone and attended high school in Germantown ; he went to college, became involved with theatre , met writers and poets, among them, Leroy Jones and wrote : « The Communist », an allegorical play about the situation of black Americans . In the late fifties, Archie Shepp also met the most radical musicians of the time : Lee Morgan, Bobby Timmons, Jimmy Garrisson, Ted Curson, Beaver Harris… his political consciousness found an expression in plays and theatrical productions which barely allowed him to make a living. In the beginning sixties he met Cecil Taylor and did two recordings with him which were determining. In 1962 he signed his first record with Bill Dixon as co-leader. During the following year, he created the New York Contemporary Five with John Tchichai, made four records for Fontana, Storyville and Savoy and travelled to Europe with this group.
Starting in August 1964, he worked with Impulse and made 17 records among which, Four For Trane, Fire Music, and Mama Too Tight, some of the classics of Free Music. His collaboration with John Coltrane materialized further with Ascension in 1965, a real turning point in Avant-Garde music. His militancy was evidenced by his participation in the creation of the Composers Guild with Paul and Carla Bley , Sun RA, Roswell Rudd and Cecil Taylor.
In July 1969 he went for the first time to Africa for the Pan African Festival in Algiers where many black American militants were living. On this occasion he recorded Live for Byg the first of six albums in the Actual series.
In 1969 he began teaching Ethnomusicology at the University of Amherst, Massachusetts; at the same time he continued to travel around the world while continuing to express his identity as an African American musician.
The dictionary of Jazz (Robert Laffont, Bouquins) defines him in the following way : « A first rate artist and intellectual, Archie Shepp has been at the head of the Avant- Garde Free Jazz movement and has been able to join the mainstream of Jazz, while remaining true to his esthetic . He has developed a true poli-instrumentality: an alto player, he also plays soprano since 1969, piano since 1975 and more recently occasionally sings blues and standards. »
He populates his musical world with themes and stylistic elements provided by the greatest voices of jazz: from Ellington to Monk and Mingus, from Parker to Siver and Taylor. His technical and emotional capacity enables him to integrate the varied elements inherited by the Masters of Tenor from Webster to Coltrane into his own playing but according to his very own combination : the wild raspiness of his attacks, his massive sound sculpted by a vibrato mastered in all ranges, his phrases carried to breathlessness, his abrupt level changes , the intensity of his tempos but also the velvety tenderness woven into a ballad. His play consistently deepens the spirit of the two faces of the original black American music: blues and spirituals. His work with classics and with his own compositions (Bessie Smith's Black Water Blues or Mama Rose) contributes to maintaining alive the power of strangeness of these two musics in relationship to European music and expresses itself in a unique mix of wounded violence and age-old nostalgia.
The scope of his work which registered in the eighties a certain urgency (at the cost of a few discrepancies) is a witness to the fact that in 1988 Archie Shepp was with Sonny Rollins one of the best interpreters in the babelian history of jazz.
With his freedom loving sensitivity Archie Shepp has made an inestimable contribution to the gathering, the publicizing and the inventing of jazz.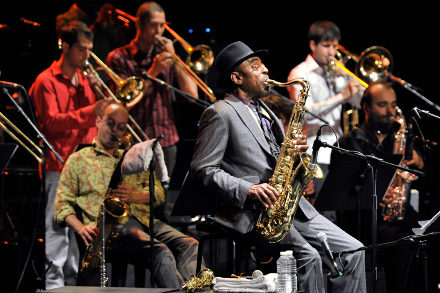 ©Francis Vernhet
40 years after Impulse released Attica Blues, true manifesto of the Great Black Music, and for Archie Shepp 75th birthday, we - Archieball, Jazz à Porquerolles, and Châteauvallon national centre of creation - want to revisit this monument of Jazz history along with the new generation of musicians : composed by a intimate team near by Archie Shepp, classi­cal African American jazzmen and new comers, followed by the finest young jazzmen and jazz-women of the south west, Attica Blues Big Band writes the story of contemporary jazz music, somewhere between historical jazz and modern and inventive streams. Attica Blues, born in 1971, is on the one hand a Big Band in it's fourth incarnation, and on the other hand a music collection that has been accumulated for years.
The artwork of Archie Shepp is at a crossroad, a meeting point between politic and art, where Black Musics meet their «sophisticated» cousins and descendants - a gap that Attica Blues overcomes. It's a collision between all the rhythms, the swings and the grooves of the Great Black Music through the years.
It's an expression of the black identity, political and artistic, that never stopped and has been reinvented all along it's history. Giving birth again to this project in Europe makes sens because it's still really modern. Because the fight and the music of blacks deeply influenced world culture, and because it has been led since it's creation by a musician and an activist, who was situated precisely at this crossroad, all along it's 55 years old career.
Archie Shepp embodies in a unique and powerful way the African-American experience. His music, his songs, his voice, and even the way he walks are representative of Blues music. He was born in a time of segregation, in the black ghetto of Fort Lauderdale, a short time after Rubin Stacey was beaten to death because he was black. He witnessed the Civil Right mo­vement, the Black Power - and got actively involved in New York at the age of twenty - the revolutions, the repressions and the deceptions.
He is one of the leaders of Free Jazz, a very radical music because it is close to the roots of black music and is influenced by it's history, ( collective improvisation, commitment, narra­tive dimension, folk form, souvenirs of the African past...) and at the same time deeply new, even revolutionary.
On September 13th 1971, the state governor of New York, Nemson Rockefeller, put and end to the negotiations with the mutinies of Attica Detention Centre and decided to take it by force. It turned out that 9 out of 10 hostages got killed by the police. During weeks after the uprising, the guardians, all white, got revenge - humiliations, tortures - on the prisoners. 60% of them were black. The prison authorities knew and didn't do anything to stop it.
As a reaction, a short time after, Archie Shepp composed and recorded Attica Blues. This music is a patchwork of spiritual music, blues music, ellingtonian orchestrations or funk. The whole project in also influenced by free music... From anger to joy, from sadness to hope ... It is deeply one.
Beyond their diversity, it expresses the unity of the African Americans, their history, their aesthetic creations and political ideas. In 1979, during a concert to be remembered at the Palais
des Glaces, that was recorded live, Archi Sheep set Attica Blues Big Band up again and added new tracks, always aiming at the same goal.
Martin Sarrazac
translation by Arthur Marnai
Line up:
Archie Shepp (Sax/voix)
Amina Claudine Myers (choeur/piano)
Tom McClung (piano)
Marion Rampal (choeur)
Cécile McLorin Salvant (choeur)
Stéphane Belmondo (trompette)
Izidor Leitinger (trompette)
Christophe Leloil (trompette)
Olivier Miconi (trompette)
Sébastien Llado (trombone)
Michael Ballue (trombone)
Simon Sieger (trombone)
Romain Morello (trombone)
Reggie Washington (contrebasse)
Francois Théberge (sax tenor)
Virgile Lefebvre (sax tenor)
Raphaël Imbert (sax alto)
Olivier Chaussade (sax alto)
Jean Philippe Scali (sax baryton)
Famoudou Don Moye (batterie)
Louise Rosbach (violoncelle)
Antoine Carlier (violon alto)
Steve Duong (violon)
Manon Tenoudji (violon)
Pierre Durand (guitare)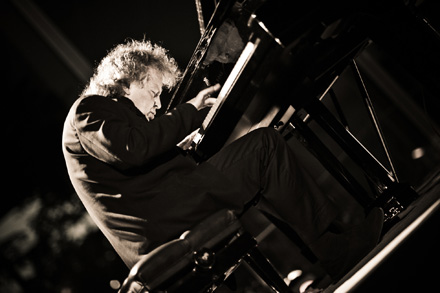 ©A.Cleuet
New York, summer of 1967. After George Wein invited him to perform at Newport, pianist Joachim Kühn recorded the Impressions of New York album—on a request from Bob Theile, artistic director of Impulse Records. The album also featured John Coltrane and Archie Shepp, and the quartet included Kühn's brother and clarinetist Rolf, drummer Aldo Romano, and bassist Jimmy Garrison, who played regularly with Coltrane and Shepp. There's no such thing as coincidence. For Joachim, the memory is crystal clear, the emotion still strong: several days after Coltrane's death, on July 17, 1967—grieving, he attended funeral services at St. Peter's Lutheran Church—he heard Archie perform at the Village Vanguard in a quartet with Grachan Moncur III and Roswell Rudd (trombone), Jimmy Garrison (bass) and Beaver Harris (drums).
Meudon, Studios de Meudon, November 15 and 16, 2010. Archie Shepp and Joachim Kühn record a duet. The duet, an open form that gives each of the two musicians a lot of space, is a fragile art form. A certain kind of emulation—a challenge, some alchemy—has to be at work. It's a delicate balance, a delicate sound, a profound and intense dialogue between the intimacy of improvisation and the urgency of expression.
©A.Cleuet
They both know this inner geography, having done saxophone/piano duet form for many years: Archie with Abdullah Ibrahim (Duet, 1978), Horace Parlan (Trouble in Mind, 1980; Goin'Home, 1986), Tchangodei (Eagle's Flight, 1999), Siegfried Kessler (First Take, 2005) and Mal Waldron (Left Alone Revisited, 2009); Joachim, with Michel Portal, Jerry Bergonzi (Signed by, 1991), Ornette Coleman (Colors, 1997) and Heinz Sauer (If (blue) then (blue), 2010).With a hypersensitive lyricism and dialogue taken to an art form, this duo demonstrates a rare ability to flow totally with the energy of the moment. The playing is supreme, the improv' sparkling, and there's unabated faith in the moment, in instinct, in the other. Whether conjuring up the Babelian memory of standards, interpreting their own compositions or letting loose in free improvisation immersed in blues-infused sound, they stand on the same continental divide. Music carries them far and away. Both musicians have a similar way of putting their freedom on the line in the moment of improvisation. They challenge themselves, veering toward encounter, toward the music. They share an approach, the mastery, the energy, fully engaging body and soul, holding nothing back. They are two musical powerhouses, two fragile musicians who experience, and complete, one another. A face-to-face, in between, an intertwining of brilliance and lyricism, tradition and free songs—they transmit the idea that jazz, more than a genre in the strict sense of the term, is a circle of influence, an expanse, a field, a space-time that holds all the sounds in the world, encompasses the entire history of the vast continuum of Black-American music—a collusion of soft and clashing sounds, with the sole and ultimate aim of achieving even greater freedom.
Wo!Man (LP)
Released on May 12th 2011 in Archieball, distributed by Harmonia Mundi.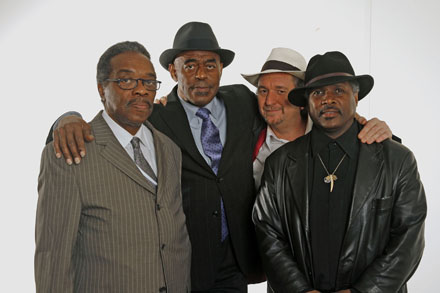 © F.Vernhet
In Europe :
Archie Shepp (voice, saxophones)
Tom Mc Clung (piano)
Wayne Dockery (double bass)
Steve Mc Craven (drums)
In U.S :
Avery Sharpe (db bass)
Ronnie Burrage (drums)

+ Guest :
Roswell Rudd (trombone), Denis Colin (clarinet), Amina C. Myers (piano, voice), Mina Agossi (voice) ... Special guest : Yusef Lateef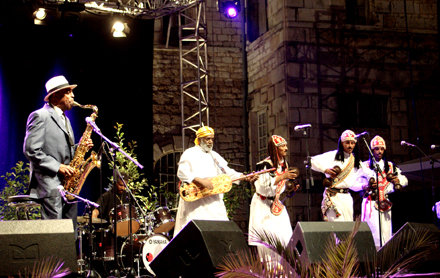 ©B.Delfraissy
Archie Shepp - saxophones, voix
Tom McClung - piano
Wayne Dockery - contrebasse
Steve McCraven - batterie
Maalem Abdellah El Gourd
Abdou El Gourd
Abdelkader El Khlyfy
Khalid Rahhali
Noureddine Touati
Archie Shepp and Dar Gnawa
Archie Shepp played for the first time with Dar Gnawa of Tangier and their Maâlem Abdellah El Gourd at Essaouira Festival in 1999 in Morocco.
To renew the musical encounter, Entrop'Art association organized the Dar Gnawa concert at the Arab Word Institute (IMA) and at the Trianon theater in Paris as part of the events of Temps du Maroc in December 1999.

Gnawa confraternity
Gnawas of Morocco are descendants of slaves and civil servants of the Arab empire that were brought to Northwest Africa since the twelfth century.
Converted to Islam, they soon formed a powerful confraternity, one of many in Morocco, practicing possession rituals and trance dances comparable to those practiced in all of sub-Saharan Africa, from Senegal to Ethiopia. During their night ceremonies which are called lila de derdeba, they developed a unique style of music combining traditional African influences and beliefs as much as the shamanism of Islamic central Asia to commune with the spirits.
For a long time, they were outcasted for their practices considered as witchcraft, Gnawas slowly reintegrated society by performing their music on religious evenings or on market places on celebration days.
Displaying 1-6 of 6 results.
I hear the Sound
I hear the Sound
ARCHIE SHEPP ATTICA BLUES ORCHESTRA
- LIVE -
Archie Shepp (Saxophones tenor, soprano, voice)
Amina Claudine Myers , Marion Rampal, Cécile McLorin Salvant (Voice)
Amina Claudine Myers, Tom Mc Clung(Piano)
Famoudou Don Moye (Drums, congas)
Reggie Washington (Double bass et Bass) Pierre Durand (Guitar)
Stéphane Belmondo, Izidor Leitinger, Christophe Leloil, Olivier Miconi (Trumpets)
Sébastien Llado, Simon Sieger, Romain Morello, Michaël Ballue (Trombones)
Raphaël Imbert, Olivier Chaussade (Alto Saxophones) François Théberge, Virgile Lefebvre (Tenor saxophones)
Jean-Philippe Scali (Baryton saxophone)
Manon Tenoudji, Steve Duong (Violins) Antoine Carlier (Violin alto) Louise Rosbach (Cello)
Jimmy Owens (Conductor)
Except The Cry Of My People: Trumpet : Ambrose Akinmusire, Bass : Darryl Hall, Conductor : Jean-Claude André

Booklet text : Archie Shepp, Martin Sarrazac, Raphaël Imbert
Design album : Wozniak
Release on November 5 2013 with Archieball (independent label created by Archie Shepp in
2004), distributed by Harmonia Mundi.
CD release concert on November 24 at the London Jazz Festival
On September 9,1971, a riot broke out in Attica Prison, New York State, and quickly spread. For five days, about a thousand prisoners
controlled one of four yards encircled by the prison buildings, where they held thirty three hostages – guards and civilian employees. On September 13, New York State Governor Nelson Rockefeller ordered the prison to be retaken by force. Thirty-nine people were left dead: twenty-nine prisoners and ten hostages, all killed by the troopers' bullets. At first, the administration tried to blame the guards' deaths on the rioters, before being forced to renege.

In January 1972, Archie Shepp recorded the album Attica Blues in tribute to this rebellion. After the original and the repeat performance at the Palais des Glaces in 1979 of his Attica Blues Orchestra, Archie Shepp in 2012 revived this fantastic ensemble, together with a brilliant and dynamic collective of performers. It is an orchestra which transcends styles and epochs. The band international in scope, combining the extraordinary abilities of great American artists such as: Amina Claudine Myers, Jimmy Owens, Famoudou Don Moye, Ambrose Akinmusire, Reggie Washington,Tom McClung with an array of some of the brightest stars on the European horizon: Stéphane Belmondo, François Théberge, Christophe Leloil, Izidor Leitinger, Raphaël Imbert, Cécile McLorin-Salvant, a Franco-American vocalist currently studying music at the New Shool in New York. She also studied in the jazz class of the Aix-en-Provence conservatory and is winner of the Thelonious Monk Institute of Jazz Competition. Finally the remarkable and talentuous soprano, Marion Rampal of Marseille, France, who has performed extensively in Europe and recently in the U.S. The String Quartet from Dijon is a specially added feature which adds both color and intensity to this joyful sound; a 26 pieces orchestra which emits a unique generational and cultural ambiance. Above all there is the cry of the blues which has lost nothing of its purpose and intensity in 2013. The blues is analogous to the album's title, a beacon, and a metaphor, not the blues as a set style or particular aesthetic, but as a collective state of mind, a link that unites all the musicians.

For example: Blues for Brother George Jackson seems to recall a devastating, dance groove, but Shepp insists that the music has both a social and esthetic meaning. Written to preserve the memory of the Attica rebellion, it still strikes a strong chord in our contemporary ears. 2013 is the year of Nelson Mandela's 95th birthday, of Barack Obama's second term, the old anxieties that we thought to be buried, and the inexhaustible reflexes of exclusion, suspicion, racism, and ostracism are still present, and grow more and more embedded in our daily lives. We experience Attica Blues as if it had been written today. There is a certain tristesse which continues to gnaw at us, a sense of shared suffering that will long remain in our collective memory.
Tracklisting:
1. Attica Blues
2. Arms
3. Blues for Brother G. Jackson
4. Come Sunday
5. The Cry Of My People
6. Quiet Dawn
7. Déjà Vu
8. Steam
9. Goodbye Sweet Pop's
10. Ballad for a Child
11. Mama too tight

(to download and available on the digital version):
12. The Stars are in your eyes
13. Ujaama
Wo!man
Formation:

Archie Shepp: (Soxophones alto,tenor)
Joachim Kûhn: (Piano)
Released at Archieball/harmonia mundi
Meudon, Studios de Meudon, November 15 and 16, 2010.
Archie Shepp and Joachim Kühn record a duet. The duet, an open form that gives each of the two musicians a lot of space, is a fragile art form. A certain kind of emulation—a challenge, some alchemy—has to be at work. It's a delicate balance, a delicate sound, a profound and intense dialogue between the intimacy of improvisation and the urgency of expression.
Tracklisting
1.Transmitting
2. Nina
3. Harlem Nocturne
4. Drivin' Miss Daisy
5. Lonely Woman
6. Segue
7. Sophisticated Lady
8. Sketch
Final coda sax Monette (by Archie Shepp)
Phat Jam in Milano
Concert recorded on november 19 2007 in Milano, at the Teatro Manzoni, for the Aperitivo in Concerto festival

Archie Shepp (saxophone, voice)
Napoleon Maddox (rap, beatbox)
Oliver Lake (sax)
Hamid Drake (drums)
Joe Fonda (doublebass)
Cocheme'a Gastelum (alto sax)
Released April 2009 - Dawn of Freedom - Harmonia Mundi
The breath of Archie Shepp comes all the way from Africa, bringing with it the tradition of African-American music, and reviving it as only someone born in this historical backgroThe breath of Archie Shepp comes all the way from Africa, bringing with it the tradition of African-American music, and reviving it as only someone born in this historical background could.
Historical patriarch of an open, pure jazz, Archie Shepp is not merely a master of the saxophone. He represents a twofold awareness, musical and political, which has always defined his aesthetic options and is found throughout his career: the intense playing style of his free jazz period, his immersion in blues, his flirtation with rhythm 'n' blues, the passion he brings to his ballads, and his frequents visits to bop.
A jazz actor, "transmitter, mythical and historical musician, emerging from the great tradition of blues; trailblazer to the future, a citizen of Freedom and a militant of Black Awareness" - dixit Bernard Lubat - Archie Shepp is responsible for multiple, bold encounters between American musicians of different generations; between French musicians and African musicians; between hip hop, libertarian jazz and African music.
Attaining even greater heights of freedom, he put together project after project with rap and slam, gathering around him musicians such as Jalal (Last Poets), Chuck D (Public Enemy), Rocé, Vicelow (ex Saïan Supa Crew), and later, after an explosive concert in Italy in 2007: Napoleon Maddox... The chemistry between Shepp, Drake and Maddox is a fiery experience. Phat Jam is nothing more than the raw diamond that was born of this encounter.
Tracklisting:
1.Dig
2.Ill biz
3.Kashmir
4.The life we shose
5.Revolution
6.Casket
7. Ill biz Radio Edit
Gemini
Formation:
CD1: Archie Shepp (Saxophone tenor, soprano)
Tom McClung (Piano)
Wayne Dockery (Bass)
Steve McCraven (Drums)
+Chuck D (Voice) et Stéphane Guéry (Guitar) in guest
CD2: Archie Shepp (Saxophone tenor, soprano)
Amina C. Myers (Piano,Voice)
Cameron Brown (Bass)
Ronnie Burrage (Drums)
Archieball/Harmonia Mundi
Tracklisting:
CD1:
1. The Reverse (alternate version 1)
2. Revolution (Mama Rose)
3. Burning Bright
4. Trippin'
5. Time Stood Still
6. Intertwining Spirits
7. La Manzana
8. Eva
9. Pannonica
10. The Reverse
11. The Reverse (alternate version 2)
CD2:
1. Hope two
2. Call Him
3. Do you want to be saved
4. Ujaama
5. Rest Enough
Kindred Spirits
Archie Shepp 4tet and the Dar Gnawa of Tanger
Archie Shepp (saxophones, voice)
Tom McClung (piano)
Wayne Dockery (double bass)
Steve Mc Craven (drums)
Maalem Abdellah El Gourd
Abdelljabar El Gourd (gembri, voice)
Noureddine Touati, Ahmed Gdirou
and Khalid Rahhali (carcabou, choir, dance)
Sortie 2005 - Archieball-Harmonia Mundi
The songs they sing recount the endless suffering of the people, but this pain is released by the passion of the music and trance inducing performance. It is a powerful experience. I entered into Dar Gnawa's aura girded up by my own perceptions as an erstwhile 'Baptist'. I heard as a young man the shouting spirituals, revivals and ring dances of my own people. The 'blues people' are not so far removed from the Gnawi. In some ways I can say that our experiences were very similar: loves forever lost, lives irreparably destroyed, memories of family and ancient friend indelibly erased. People were uprooted from their traditional homelands all over Africa. Some were forced to take the journey across the Atlantic . compelling example of this sad historical fact is the famous 'middle passage' which witnessed human beings, sold on the open market as slaves in European port cities such as Nantes and Bordeaux then herded into ships under inhuman conditions and sent to the New World. Despite the alienation and terrible conditions they were forced to endure this black diaspora created its own music and dance culture, their own distinctive musical conventions, throughout the Americas. New song styles and dances such as 'jazz' and 'blues', 'Salsa', Samba, Calypso and Reggae including modern day 'hip hop' bear witness to the diversity and startling musical ability of these individuals.
As I watched with fascination the gnawa dance, and listened intently to the melodious baritone of Abdellah, I couldn't help but think of the Negro Spiritual, and at other times the Afro Cuban Merengue. It is interesting to ponder that a group like the Dar Gnawa might provide an interesting link to the evolution of performance styles in the new World.

Archie Shepp
Tracklisting:
1.Main Street Medina
2.Suite Blue
3.Middle Passage
4.Groove Mosso
5.Dawn of Freedom
6. Kindred Sprits
First Take
Line-up:
Archie Shepp (saxophones, voix)
Siegfried Kessler (piano)
It is obviously a considerable event to find two old accomplices on a scene. Indeed Siegfried Kessler and Archie Shepp have known each other during the 70s, during European tours, between Italy and France (Le Chat qui pêche of Paris for example), to play until the end of the night a jazz than they like both: that of the total and tonale freedom. Kessler lived on a boat off La Grande Motte (next to Marseille). One day, Jean Peiffer, boss of the Jam, a club of neighborhood, proposes him an evening " white card ". He can play with whom he wants. "Siggi" doesn't hesitate one second: it will be Shepp, his old friend. And it is warm to find them both from the introductory piece, Le Matin des Noirs, for lyric and intense inspirations that they possess the secret. Sideman dreamed for Shepp, Kessler sticks its chords and its notes in the crevices of broken lines of the saxophonist. The dialogue of both is an sharp dream, which stretches on fondamental subjects, on which we feel a very concentrated public … Thems of Shepp, Ellington, Strayhorn and Monk celebrates " the afro - américanité " of a jazz which doesn't wants to say its name (Shepp hates this term). A magic evening, between Mistral and Mediterranean matrix.
Tracklisting:
Le matin des noirs
Lush life
Don't get around much anymore
Steam
Misterioso/California blues
Ujaama